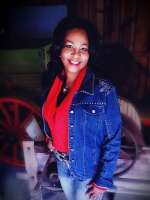 First Lady Jeanette Clark
First Lady Jeanette Clark is a woman after God's heart. Lady Clark is married to Pastor Carl Clark Sr. and serves with him in the ministry. She is the Co-Pastor/Administrator of Rivers of Living Water Church.
She served alongside her husband (as Assistant Pastor) of the Korean Assembly of God Church, Leesville, LA.
She is a member of the All Believers Christian Assembly (ABCA). She serves under the founder and Bishop, Dr. Ruby Pedescleaux (Showers of Blessings Ministry, Shreveport La.)
She is also part of the Christian Covenant Connection (CCI) under Apostle Nate and Valerie Holcomb founders of Christian House of Prayer (CHOP), Killeen Texas. Lady Jeanette Clark was ordained at Christian House of Prayer with the laying on of hands by Apostle Nate and Valerie Holcomb.
Pastor Carl and Jeanette Clark established Rivers of Living Water Ministry under the direction of the Holy Spirit.